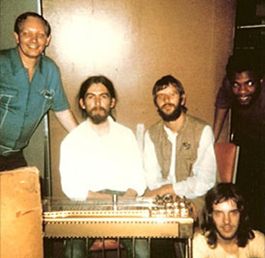 Ever wonder how Peter Frampton
 came up with his talking guitar sound?
Here is the story.
During the recording of George Harrison's album All Things Must Pass in London's Abbey Road studios, Pete Drake enthralled everyone with his 'Talking Guitar' especially a young Peter Frampton
.
"He was setting up his pedal steel right in front of me and got out this little box. I didn't know what was doing," Frampton recalls. "He had a pipe and plugged this in here and that in there, stuck the pipe in his mouth, started playing the pedal steel and it started coming out of his mouth. The pedal steel was singing to me, talking to me. That's when my jaw dropped, and I said, 'There it is. I've got to get that.'"
After meeting during the sessions, Pete and Peter remained friends throughout the rest of Drake's life.
Shown left to right in image from the All Things Must Pass recording session are Pete Drake, George Harrsion, Ringo Starr, Peter Frampton
 (kneeling next to steel) and Billy Preston.
Read more about Peter Frampton discovering this sound in the article on Spinner.com: Peter Frampton Explores the Origins of His Talking Guitar.